Guardians House & Boat Wash Station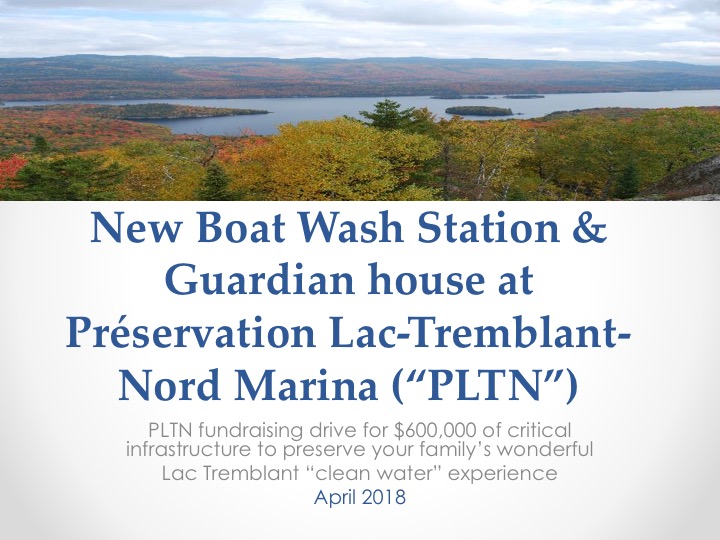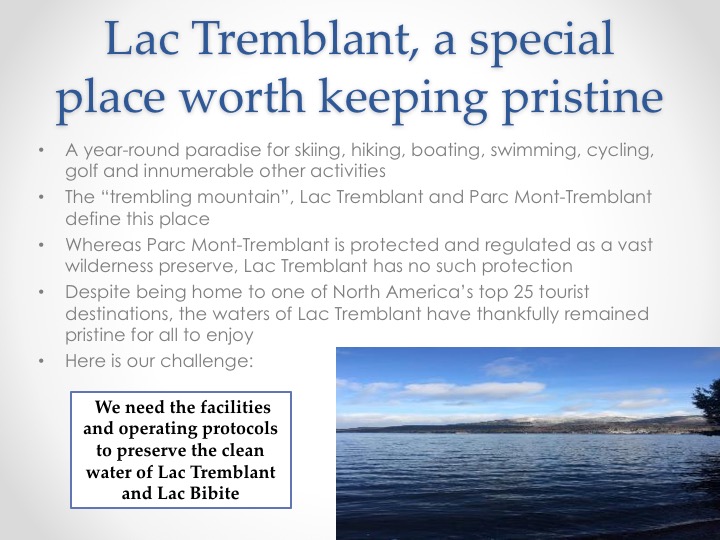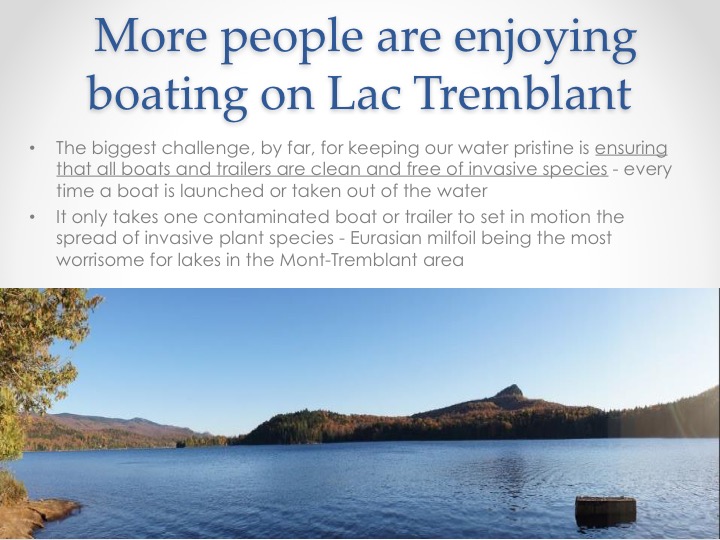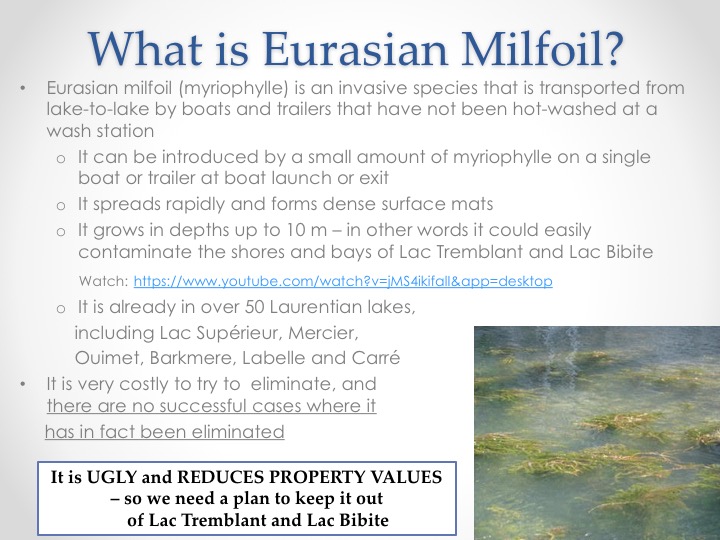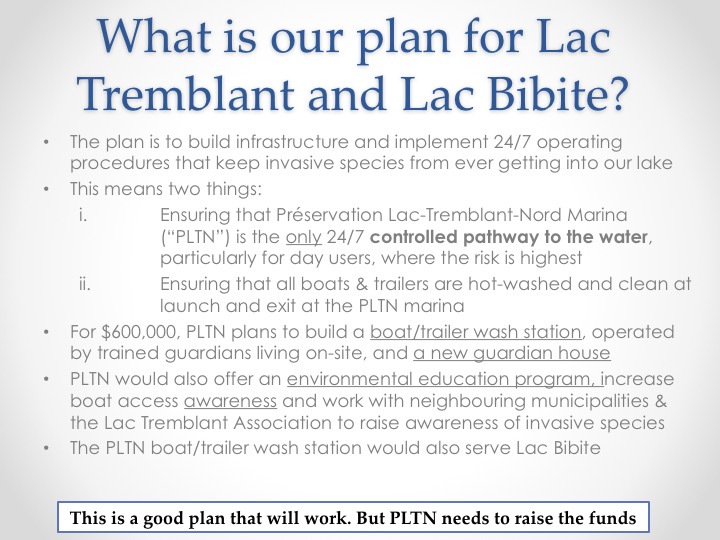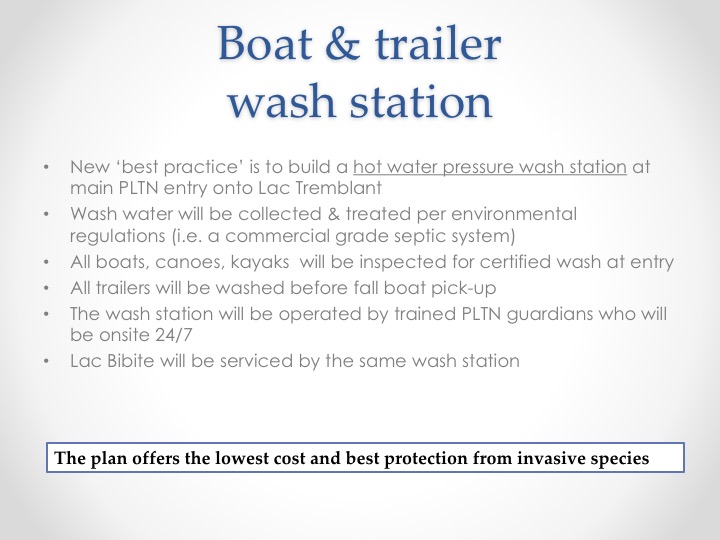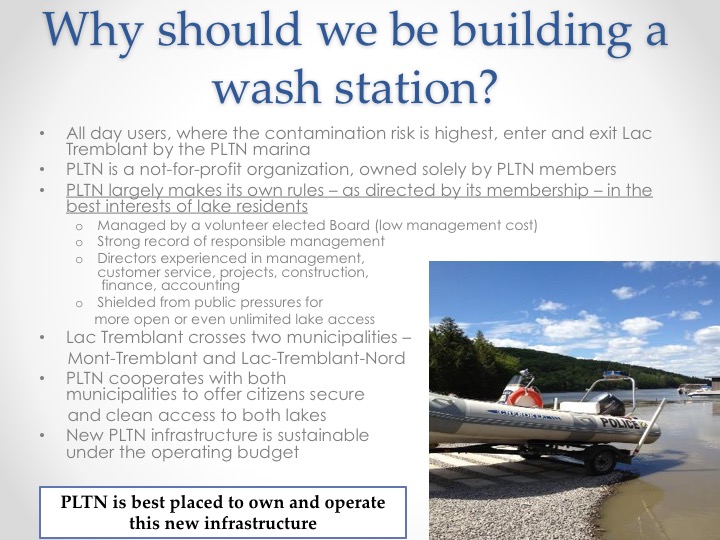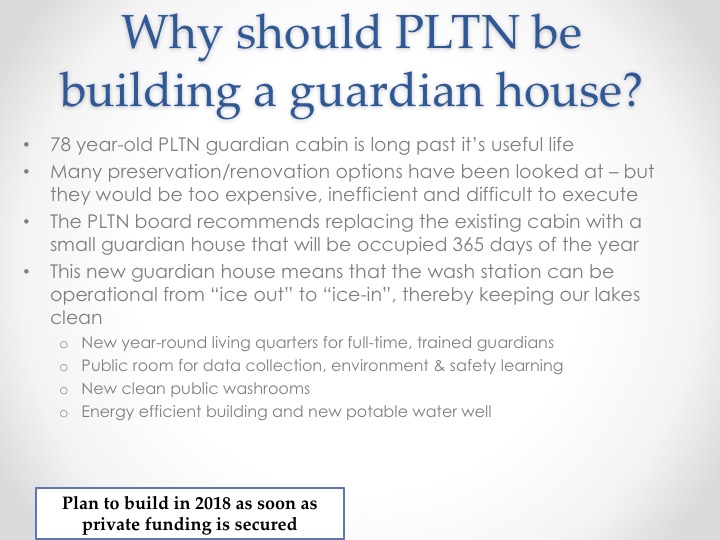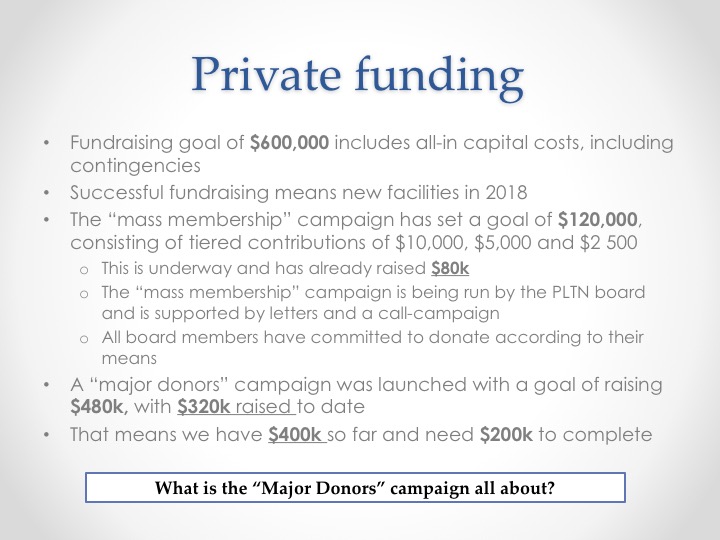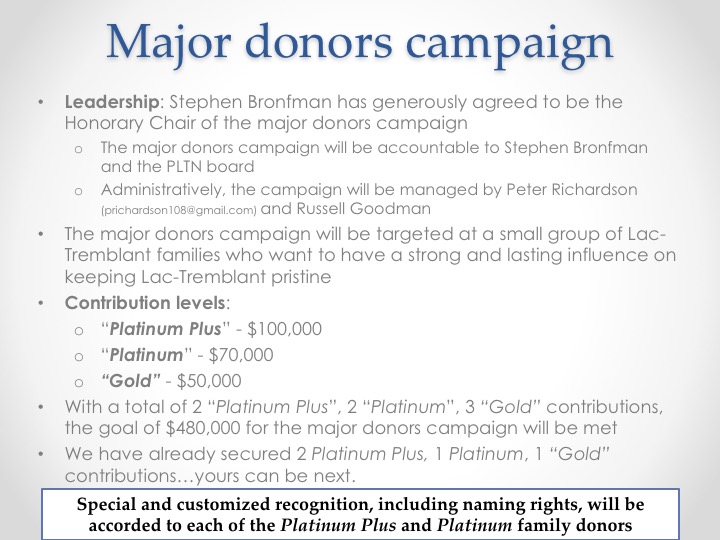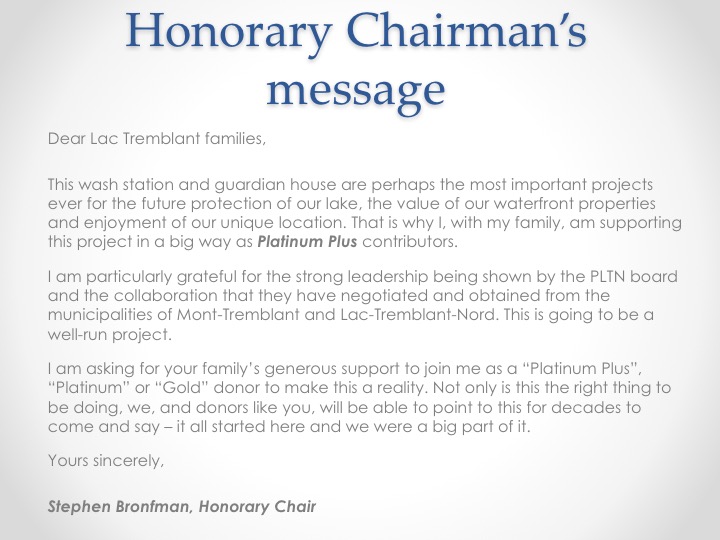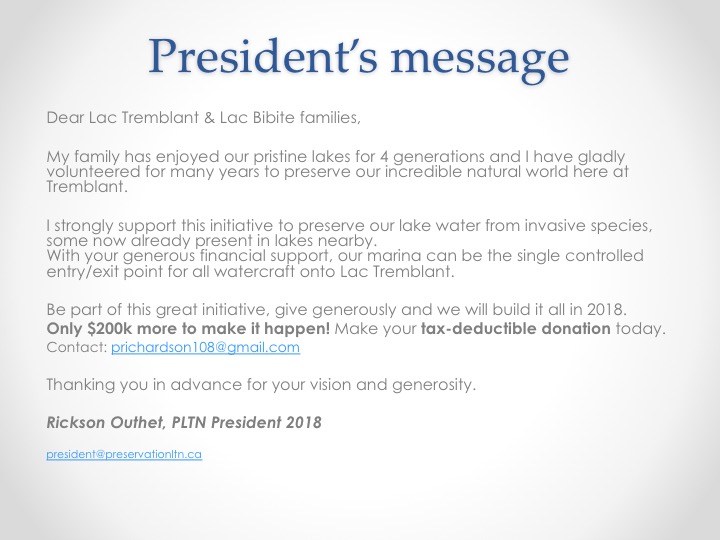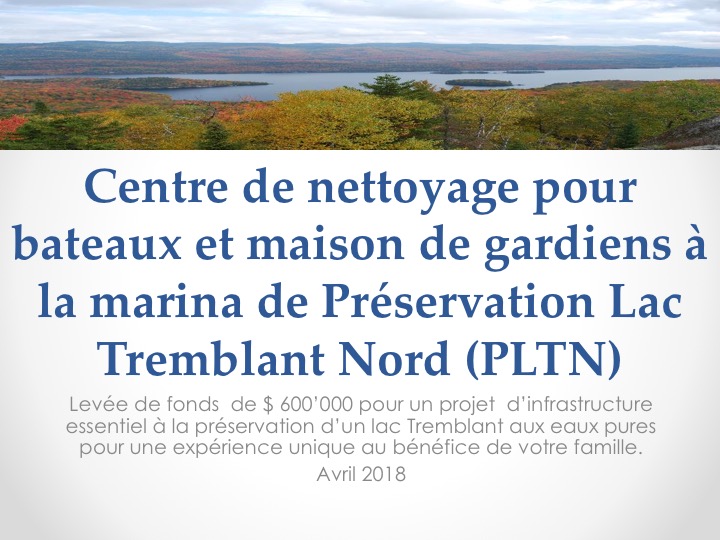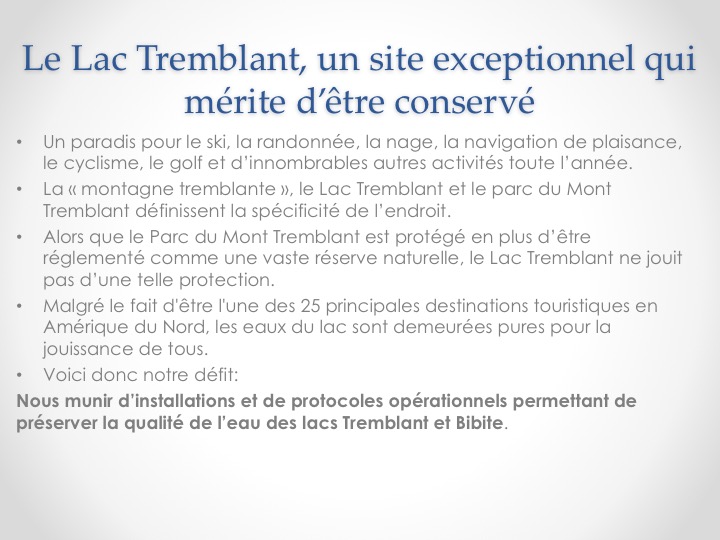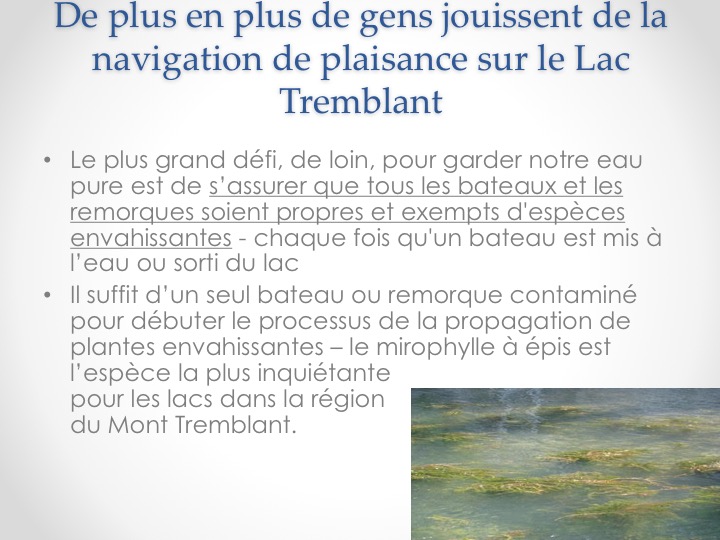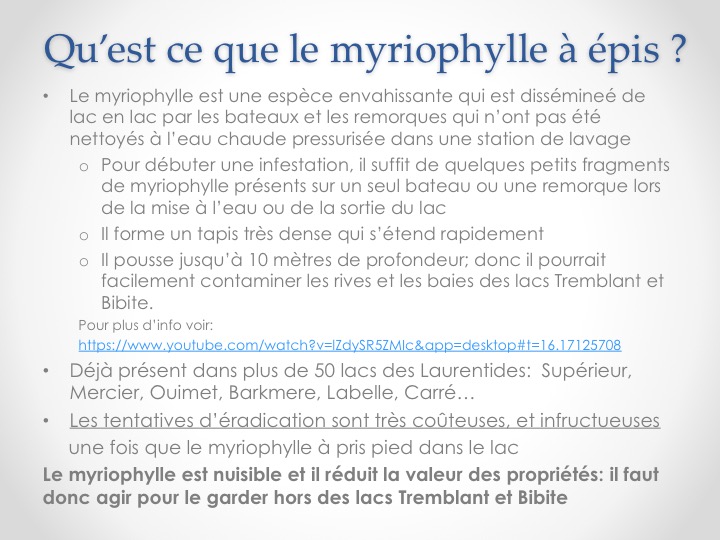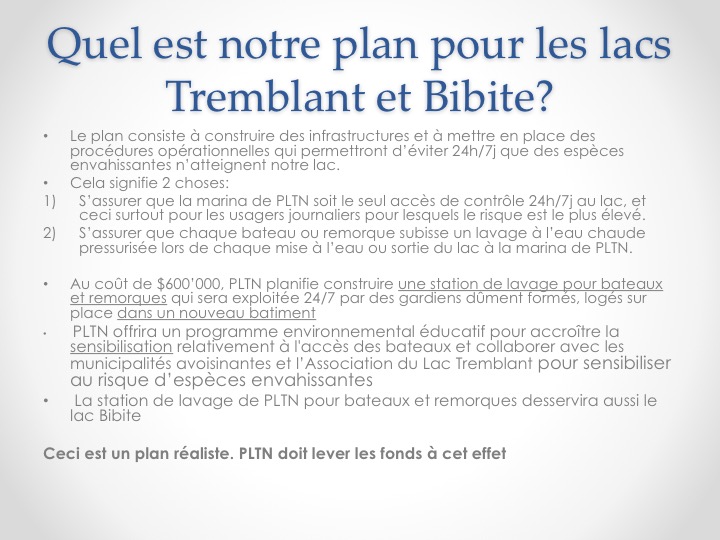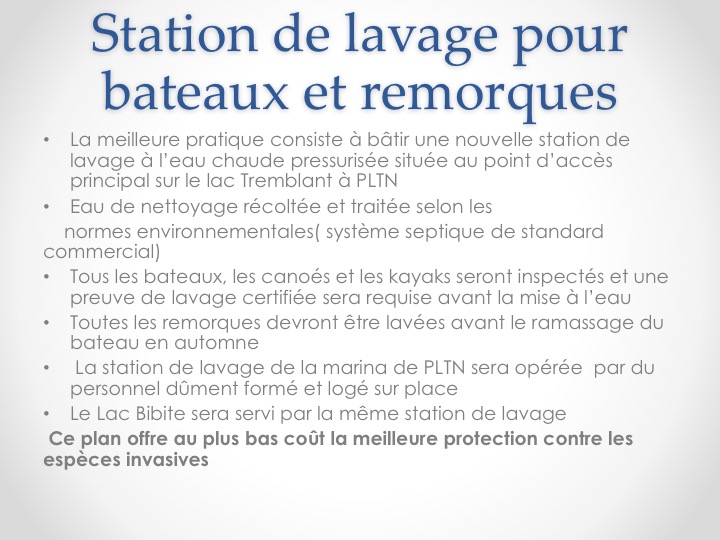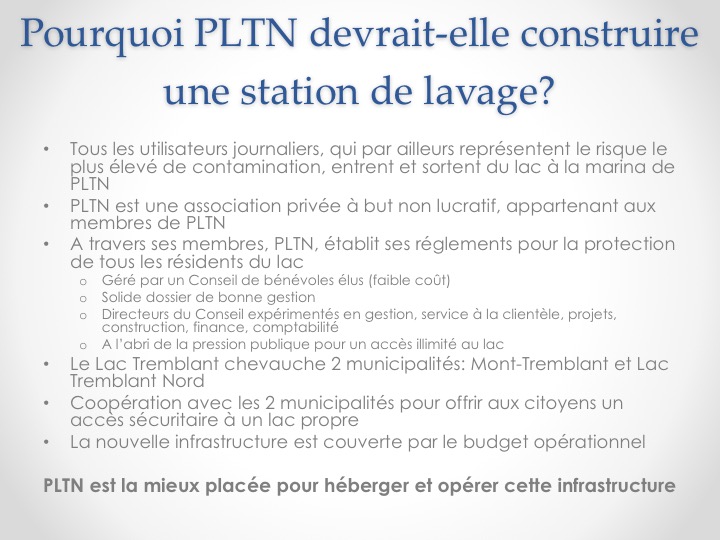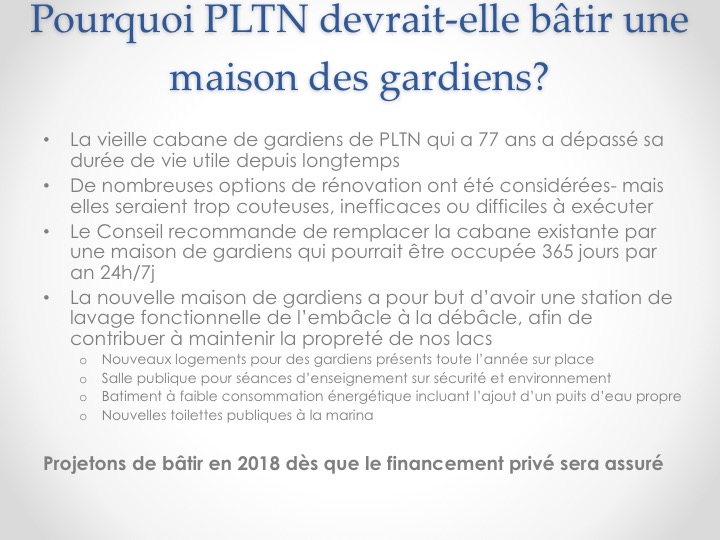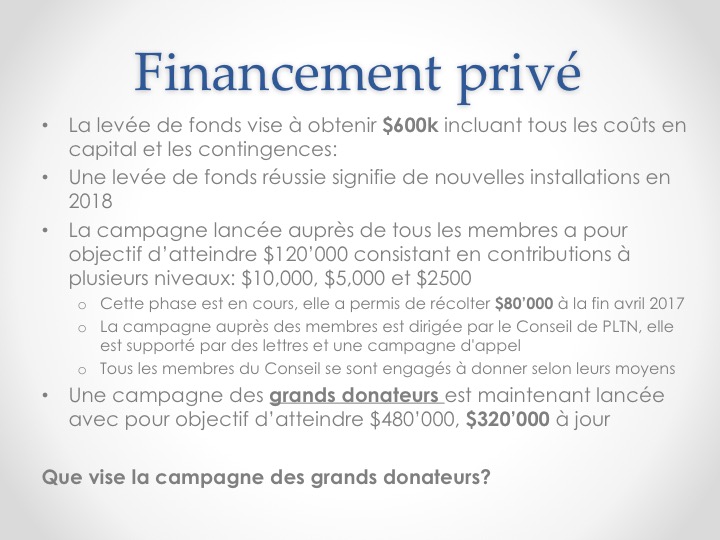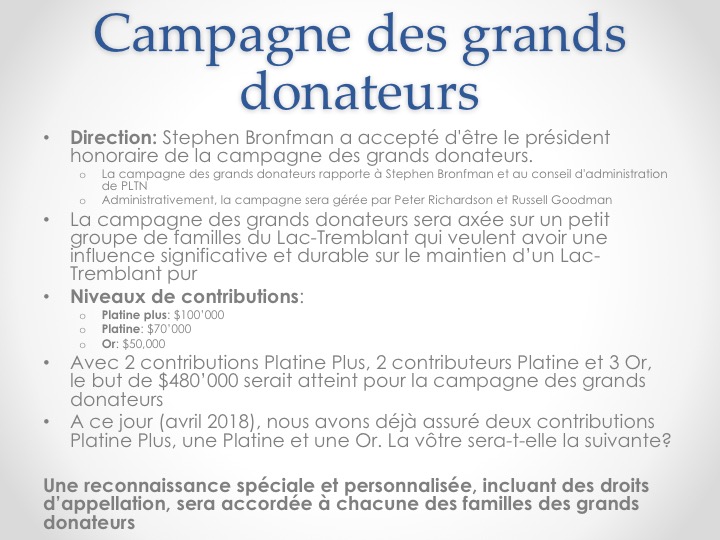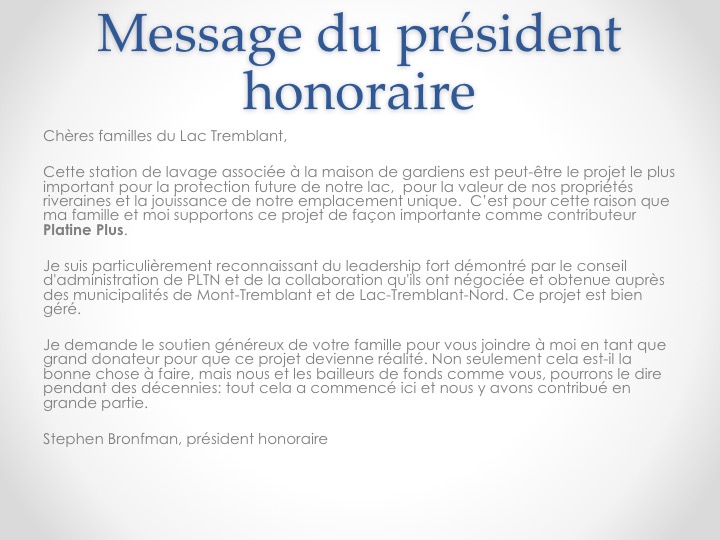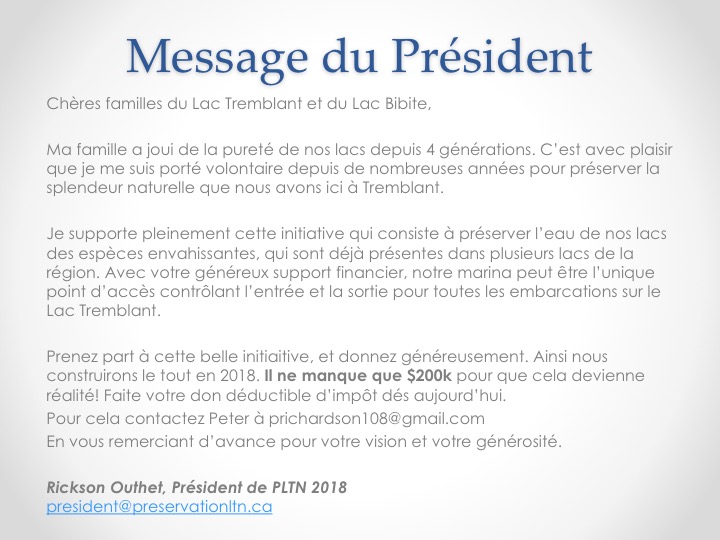 PROTECTING THE LAKE

The PLTN board remains very concerned with the risk of aquatic invasive species contaminating our lakes. Of the roughly 20 plant species in Quebec considered invasive, the predominant threat is from myriophylle (Eurasian Milfoil) which has already contaminated 46 surrounding lakes in the Laurentians including Supérieur, Mercier, Ouimet, Barkmere, Labelle, Carré.
With no known predators this plant spreads very quickly, absorbing much of the oxygen and over-taking a lake and its biodiversity. Once established it is virtually impossible to eliminate and can only be managed with very costly efforts. It has significant impacts on the lake, including:
Negatively impacts swimming

Restricts boat navigation

Fish populations diminish

decreases food supply

decreases size and amount of fish

interferes with spawning

Property values likely to drop (Lac a la Truite residents claiming 50% devaluation)

Can prevent natural water flow

Can grow far from shore, up to 10m depth

Impact on tourism, Ironman event, local businesses
Nearby Lac Superior has been dealing with this for over 10 years. In an effort to control it, the population voluntarily shut down all boat traffic on the lake for 3 years. They were unable to eliminate the Eurasian milfoil.
As prevention is the key to protecting our lakes from succumbing to invasive and unwelcome aquatic species, the PLTN board will be looking at developing a program which will include educating the public on this serious risk as well as providing on site access to a boat and trailer washing station to facilitate the control and enforcement of this program.

Why are we proposing a new watercraft wash station at the marina?

Available boat wash stations in the area may not all follow standardized best practice procedures, (research shows that hot 60 degree C water, with a high pressure, is necessary to properly kill and remove all plants). Nor are they independently inspected and they are remote from the marina which makes it difficult to verify trailer washing.


Dealers bring boats in the spring, indicating that they were washed onsite. Their trailers are often used multiple times/day on different lakes. More concerning is the fall when washing is not regulated on trailers that they use to pick up boats from various lakes.


Procedures must be followed to ensure that all places on/in the boat are properly washed (live well water on fishing boats, ballast tanks of wakeboard boats).


Canoes and kayaks currently are not washed, nor is all the sporting equipment and water toys (tubes, waterski ropes, etc).

We understand that only small fragments are necessary to begin a contamination. We have over 260 days users per year that could easily go from lake to lake.
We think an on-site wash station, managed by our trained guardians, with state-of- the-art equipment and procedures is necessary to minimize the risk of our lakes becoming contaminated.

Other concerns:
Currently, only 80% of boats that access Lac Tremblant go through the PLTN marina.

There are some commercial waterfront access points as well as some private launchesw.

Sailboats access at the South end by crane as well as some barges.

MLTN has already passed a bylaw requiring one-pathway through PLTN. We are hoping that the Ville de M-T will do the same.

Float planes are not regulated by washing and go from lake to lake

There are multiple bodies of water that currently flow in to Lac Tremblant or Lac Bibite

Your board feels that with the recent news of contamination in lakes in the surrounding areas, that getting a boat washing station functional before boats come in this spring, is essential to preserving lac Tremblant. With this in mind, the PLTN board intends to work hard, with various partners, to achieve this goal.
Here is a presentation PLTN put together to help build awareness (ENGLISH / FRENCH)
Here is some further information on what a Eurasian milfoil (myriophylle ) infestation in a lake looks like - it's not pretty.
A place to live

Our marina is open 24 hours a day, 7 days a week. Though mostly operating during daylight hours, this makes for very long days for our guardians. In order to continue these services, at the cost efficiency that we do, it is essential that our guardians live on-site. Not only does it increase the security by having someone present 24 hours a day, but in between boats arriving, being inspected and washed, and other services, it allows the guardians to take their breaks, eat their meals, etc, during slower periods.
The current cabin is a liability. It is about 90 years old and requires thousands of dollars every year in maintenance, just to keep it standing. It has no stable foundation, is not properly insulated, wind and rain come through the walls. Just last summer, there was a small tornado that hit the marina. Serge could see it coming up the lake, and was unsure if it was safer inside the house or outside.
This condition is not acceptable to the Board. In fact, it has been recommended by various professionals including a reputable engineering firm (formerly Genivar, now WSP) hired in 2009, that PLTN would have to, as a minimum, completely replace the foundation and make significant renovations to the building envelope. Renovations to bring it to code, to improve the building safety and integrity, new plumbing, water supply and electrics would be costly and the return on invested capital would be questionable. As we explored these options, the board felt that replacement was the most cost-effective scenario. Given increasing annual demand for PLTN boat launch services from members, day users and the Municipalities, the Board developed a plan for a new building. It complies with current energy efficiency standards, includes a new potable water well, all season guardian accommodation as well as a meeting space for the PLTN Board and PLTN members and/or community purposes where PLTN and members could present environmental education issues and an historic perspective of the early settlement of lac Tremblant and lac Bibite, and a new public washroom to replace the outdoor privy.
A combined project

The proposed drive-thru boat/trailer wash facility and the new Roundhouse are synergistically tied together. We need to have trained guardians available locally from ice out to ice in to manage and monitor the security gate, wash station and parking as well as helping members and visitors as needed. They need proper living facilities and we can share certain services such as an upgraded electrical system, water supply system, water treatment, communications and other services.
The existing cabin is at the end of its useful life.
PLTN has a service contract with the Ville and MLTN that contributes to the costs of running the marina. This amount has not increased in 10 years, despite the increase in number of boats, cost of living (CPI), complexities of access, and maintenance costs, like rebuilding the launch. Board members, who volunteer their time, have been spending increasing amounts of volunteer time managing the whole process of access through PLTN.
If the PLTN marina were to service only the PLTN members, we could greatly simplify the duties and hours of the guardians, set up appointments for Member boats in the spring and fall, and provide a simple, portable wash station that would service our members.
However, PLTN's unique position of having a functional marina, with service contracts with the municipalities, allows us the possibility to do much more. It provides the infrastructure to create 1 pathway to the lake. It provides the space to build a boat wash station, on-site, therefore ensuring that all boats and trailers are properly washed, right before entering the lake, thereby reducing the risk of the same trailer being used at multiple sites. PLTN already has the basic manpower to run this boat wash, at a fraction of the price it would cost elsewhere, because staff is onsite, ready to go. This is an easy win for everyone, and what PLTN hopes to do for all those who currently enjoy a pristine Lac Tremblant.
PLTN began as boat and vehicle parking for boat-access only citizens. It has grown to so much more than that and we are in a unique position to protect the lake, when so many nearby lakes have been contaminated. And the current Board is willing to do this. However, the Roundhouse is a fundamental part of the package. Without it, we cannot provide the services outlined above, services that we feel are the most cost-effective way to protect the lake. The benefits of a clean lake are for everyone,

To bring about change, we need more than just regulations, we need people to believe in the need to protect.
Ce n'est pas que par des règlements mais par la volonté des gens qu'on va réussir à amener des changements.
Guardians House Fundraiser

To bring about change, we need more than just regulations, we need people to believe in the need to protect.
Ce n'est pas que par des règlements mais par la volonté des gens qu'on va réussir à amener des changements.
Pledge Your Donation

To contribute, please click on donate button or contribute by cheque to PLTN or direct bank transfer
Call or email PLTN Accounting Jane Forbell
(819) 425-4833
jforbell@hotmail.com



FOR LARGER DONATIONS WE ENCOURAGE YOU TO SEND A CHEQUE TO ENSURE THE

FULL AMOUNT GOES TO THE PROJECT (NO TRANSACTION FEES)


454 CHEMIN DU LAC TREMBLANT NORD
LAC-TREMBLANT-NORD, QC J8E 1A5
(819)-425-4470
FOR online donations use DONATE BUTTON